20+ Staggering Titanic Photos You Have Never Seen
Everybody knows that the Titanic sunk on its maiden voyage in 1912 – and that it was the largest ship ever constructed at the time.
Well over a century after the ship's tragic sinking, its mysterious circumstances and uncanny similarities to works of fiction – as well as its sheer scale – still provide us with unanswered questions and hidden secrets to uncover.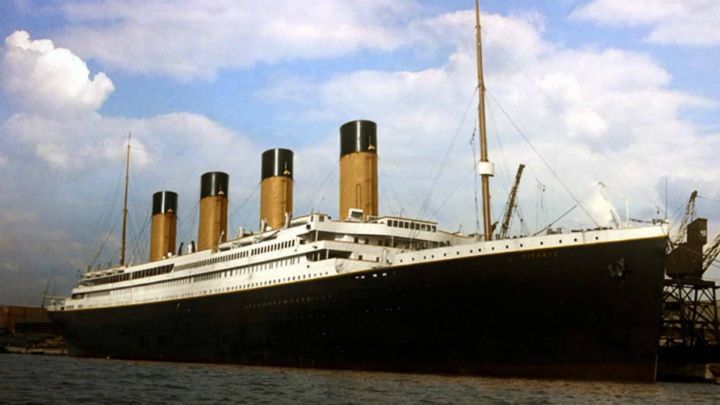 Image by Thomas Schmid / www.3dhistory.de
We've compiled photos, facts, stories and theories about the ship's history for you to explore – so dive in, and let us know if you have theories of your own about what really happened on the night of April 14th, 1912.
No Expenses Spared
To get a sense of just how luxurious the Titanic's accommodation could get, let's take a look at one of the ship's most expensive sleeping quarters: The Green Parlor Suite.
Inspired by the Palace of Versailles, the Green Parlor contained a reception room, a lounge, a smoking room, a reading and writing room, a bedroom and a spacious bathroom – and it was far from being the only suite of its kind on board.
A different, though similarly furnished suite was reserved for White Star Line's owner, J.P. Morgan.
Despite having been scheduled to sail aboard the Titanic on its maiden voyage, Morgan never got the chance to use his luxurious rooms, since he cancelled his trip at the very last minute.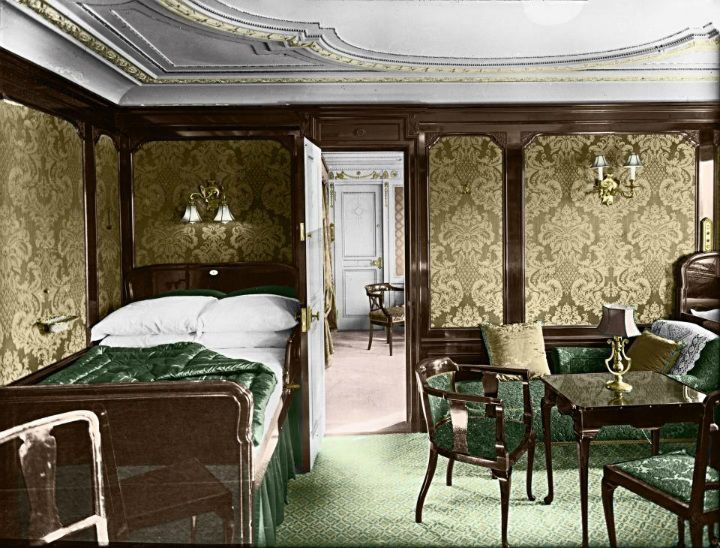 Image by Thomas Schmid / www.3dhistory.de
Morgan's nick-of-time cancellation has fueled many speculations and conspiracy theories – some more credible than others – about the Titanic's sinking, and we'll explore its mysterious circumstances further on.
The Devil's in the Details
We can thank Hollywood director James Cameron for much of what we know about the Titanic today. Cameron, an avid ocean explorer, excavated the Titanic's wreck when he conducted research for his 1997 blockbuster film Titanic.
In his excavations, Cameron was able to locate the lounge and reception area of J.P. Morgan's suite.
Its fireplace featured a large, expensive marble facade and gilded grilles, alongside other gold-plated furniture.
But it wasn't just Morgan's room that boasted these decadent stylings; throughout the ship's first-class suites, wrought iron, gilded furniture, expensive upholstery and wood carvings were quite common.
Image by Thomas Schmid / www.3dhistory.de
But no matter how luxurious the rooms were, when setting out on a trans-Atlantic Ocean voyage, nobody can stay inside for the whole trip. Read on to find out what kinds of amenities the Titanic offered its passengers.
Lots to Do
One type of amenity which made the Titanic unique at the time was the ship's gym.
Stocked full of cutting-edge equipment, the gymnasium was popular with First and Second-class passengers – and off limits to Steerage.
One avid patron of the gym was Colonel Archibald Gracie of New York socialite fame, who worked out every day, and later recounted his experience aboard the ship in a book he penned about the tragedy.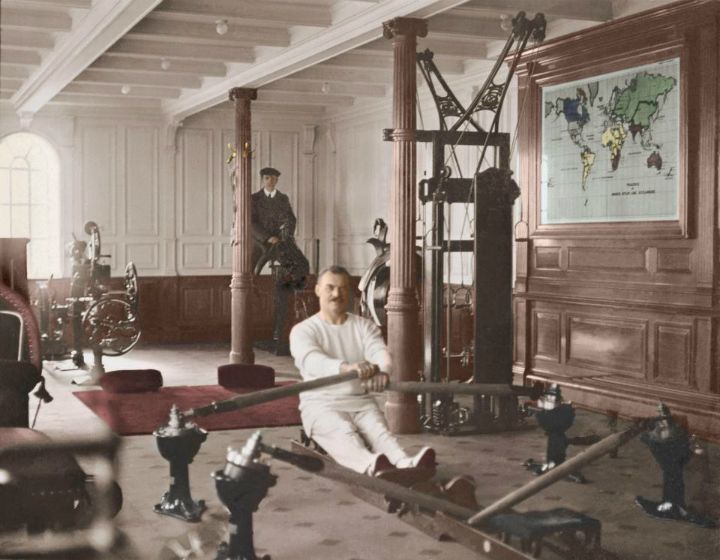 Image by Thomas Schmid / www.3dhistory.de
In addition to the state-of-the-art gym, the Titanic also offered a 7 foot (2 meter) deep saltwater swimming pool, a squash court and a Turkish bath complete with steam room, tanning beds, a sauna and a massage room. For the more academically-inclined, the ship also offered several libraries for First and Second class passengers.
Building a Titan
Construction of Olympic-class ships was a monumental undertaking, both physically and culturally. To build them, every form of resources, engineering and craftsmanship were called upon, and crews of hundreds took part in the process.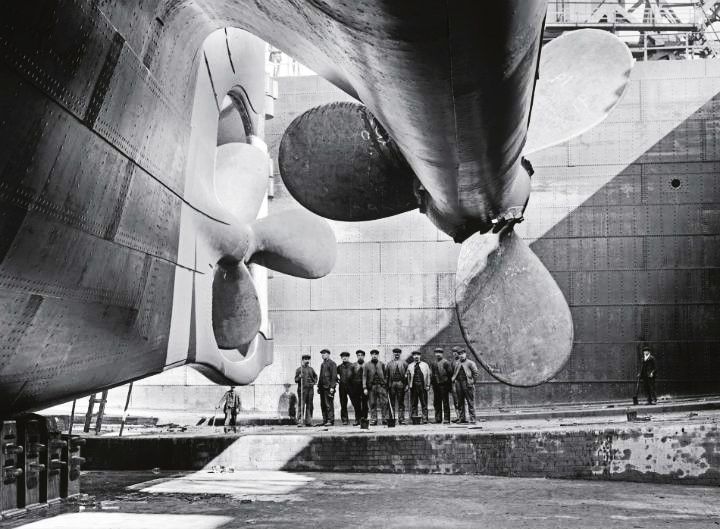 Image via Library of Congress
This image, showing the Olympic's shipbuilders under one of its propellers, gives viewers a sense of the ship's size.
Impossible Size
This photo, taken in the Titanic's turbine room, can perhaps begin to help us understand just how huge this ship really was.
The Titanic's crew was organized in three departments: Deckhands, engineers and those in charge of food and provisions.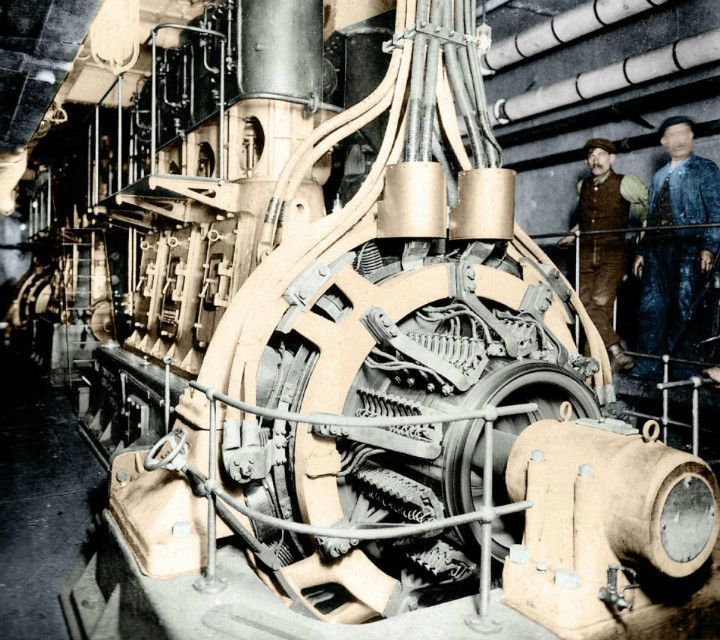 Image by Thomas Schmid / www.3dhistory.de
The engines alone were worked upon by a crew of 325 men – and so most of the Titanic's crew were engineers, stokers and firemen rather than professional sea men and sailors.
Height of Floating Luxury
When Thomas Andrews set out to design the Titanic, he envisioned an ocean liner that could compete in luxury and accommodation with the world's most glamorous hotels.
Taking inspiration from the Ritz hotel, Andrews incorporated pre-Art Deco, French Rococo and Renaissance styles into his design – at least, in the first and second-class areas.
This re-colored photo is of one of the ship's first-class salons/reading rooms, with a luxurious dining room in the far-right corner.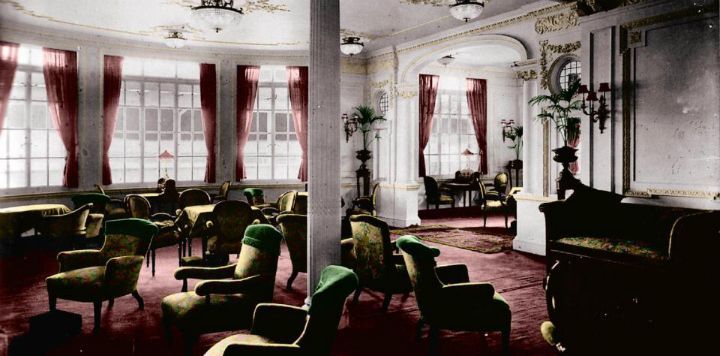 Image by Thomas Schmid / www.3dhistory.de
Steerage passengers – the ones travelling on the cheapest tickets – had a different experience altogether. Read on to find out what kind of luxuries White Star Line's flagship provided to its first and second-class passengers… and what kind of conditions those in steerage had to face.
A Taste of Paris
Despite the first-class tickets providing passengers with, well, first-class food and accommodation, some of the ship's wealthy customers wanted to dine someplace even more exclusive than the luxurious dining rooms with which they were provided.
For this purpose, London's famous Italian restaurateur, Gaspare "Luigi" Gatti, was asked to open a special restaurant named Titanic's À la Carte on board.
The restaurant required diners to book tables in advance, and to pay for tickets alongside the price for the dining establishment's meals.
The area we can see in this photo was called the Café Parisien, and was designed to look like a fashionable Parisian street-side café.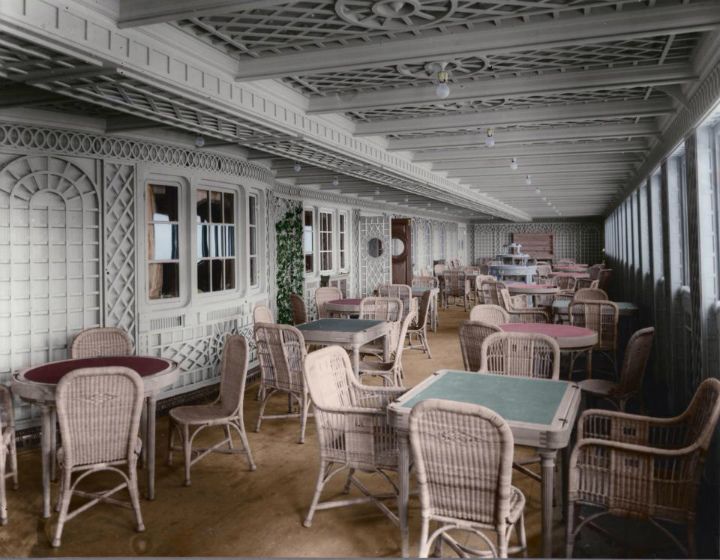 Image by Thomas Schmid / www.3dhistory.de
Steerage passengers, however, weren't exactly pampered…
Steerage's Meals
While appearing squalid when judged by Café Parisien standards, the facilities White Star Lines provided to their steerage passenger class were, in fact, considered excellent in comparison to those of other ships.
Third-class passengers were provided with three meals a day – while on most other ships, they would be expected to bring their own food for the journey – and would eat at long dinner tables with maps and cutlery in a large room called "the saloon." This room could seat up to 473 people at a time, but with 709 steerage passengers, required two rounds of service for each meal.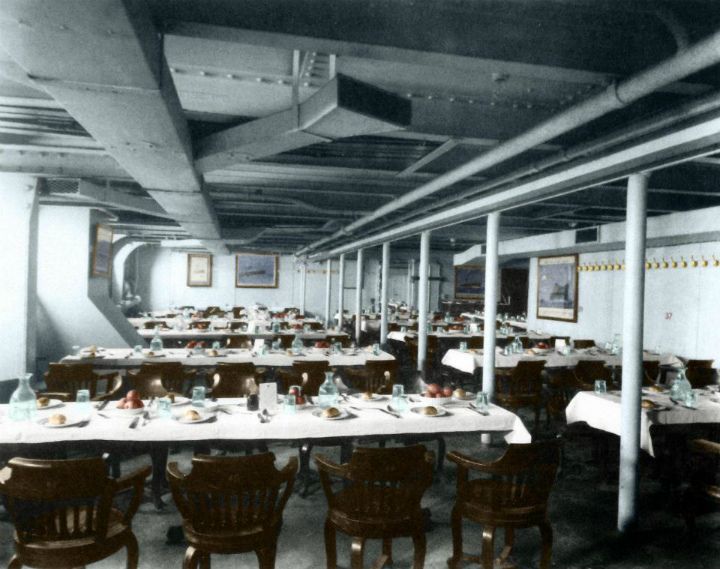 Image by Thomas Schmid / www.3dhistory.de
Read on to find out what people ate during their short journey aboard the doomed ship.
The Youngest to Survive
Eliza Gladys "Milvina" Dean might have been the youngest passenger that was aboard the Titanic, but technically she wasn't the youngest being to survive.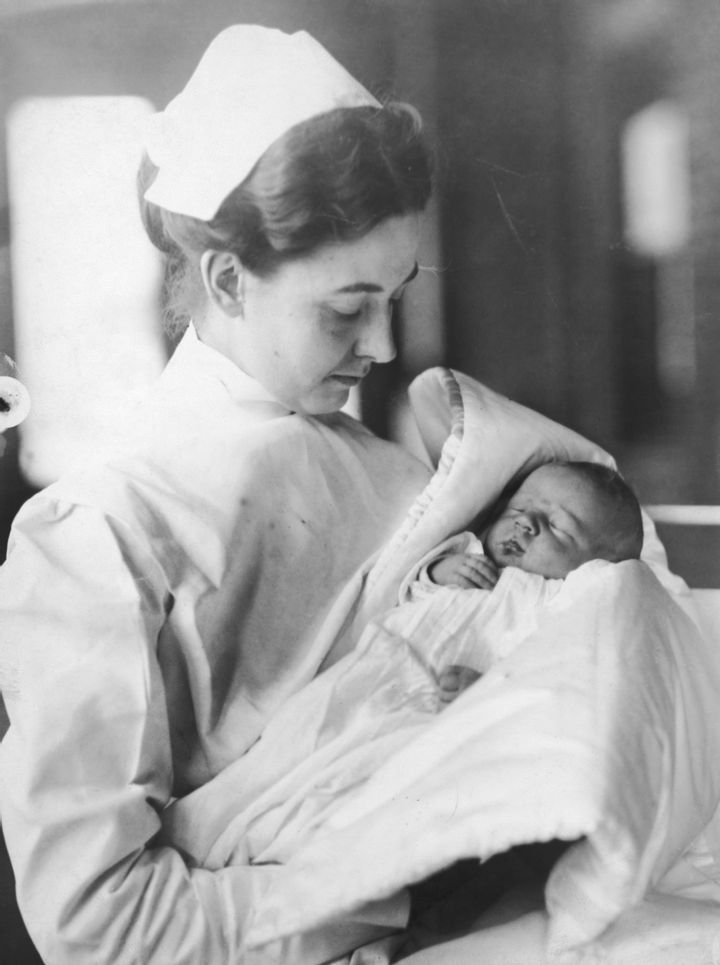 Image by FPG / Staff / Getty Images (80680697)
Mr. and Mrs. Smith were aboard the Titanic coming back from their honeymoon, but her husband sadly didn't survive. However, there was another man who would be able to continue on the family name soon enough. While the tragedy occurred in April 1912, seven months later in November 1912, baby Lucien P. Smith Jr. was born to widow Mary Eloise Smith.
What About the Families of the Victims?
The people who were aboard ship that didn't survive weren't the only ones who suffered. Unfortunately, due to the "women and children only" policy during the lifeboat evacuation procedure, many families lost their husbands and fathers. This also meant that many families went into poverty and were victim to great financial issues.
Image by Hulton Archive / Stringer / Getty Images (2663716)
Because of this, there were several different relief programs put into play, just like this collection box posted outside of the Mansion House in London, England.
The Millbay Docks at Plymouth Are Still Standing
The Titanic's final destination was meant to be Pier 59 in New York, and then it supposed to return back to Plymouth, England for its next voyage. However, the Millbay Docks at Plymouth quickly turned into something a bit more significant.
It was at that RNLI station near the docks that the surviving crew was greeted at upon reaching land on April 28, 1912. Exactly one hundred years later in April 2012, a memorial service was held to honor all of the crew members who were lost at sea during the tragedy.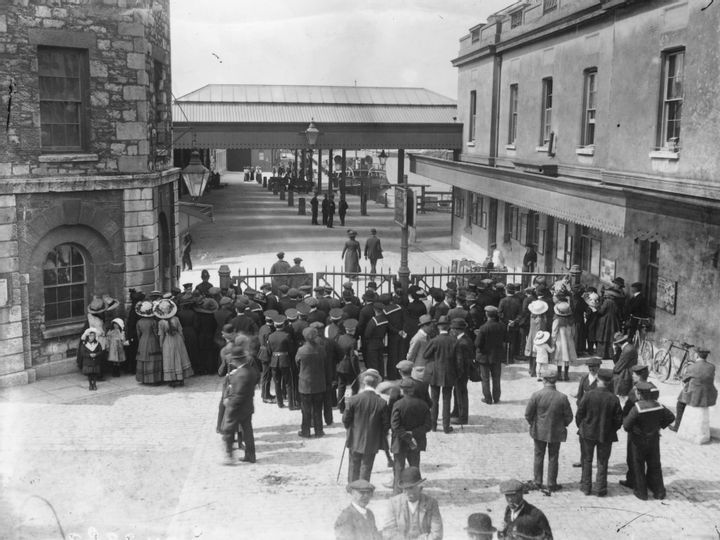 Image by Topical Press Agency / Stringer / Getty Images (3373878)
On April 2019, the official Plymouth's History on Twitter posted this picture and announced that "The building on the left is still there – the RNLI station and on the right are the apartment blocks of Millbay Marina Village."
Titanic II
Inspired by James Cameron's influential film, several people showed interest in reconstructing the Titanic.
South African businessman Sarel Gous set out in 1998 to build a replica of the ship, but, unable to secure the required investment, eventually had to give up in 2006.
Australian millionaire Clive Palmer picked up the mantle in 2012, announcing his intent to build a full-size, seaworthy "Titanic II."
The ship's launch, originally scheduled for 2016, has been pushed up repeatedly, but construction finally began in September 2017, with plans for the ship to follow the original Titanic's route to the letter – icebergs excluded, of course.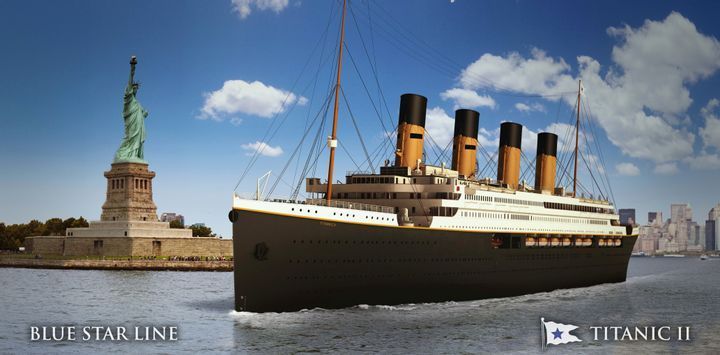 Erik Pendzich/Shutterstock (2174457x)
But Palmer is not the only one reconstructing the Titanic…
An Updated for the Updated Ship
Although Titanic II is meant to be based off of the original Titanic ship, there has been a new route that the ship is meant to embark on in 2022.
While the original Titanic started off in Southampton, England, the new Titanic ship route is meant to actually start in Dubai and voyage to Southampton before heading to its route across the Atlantic Ocean.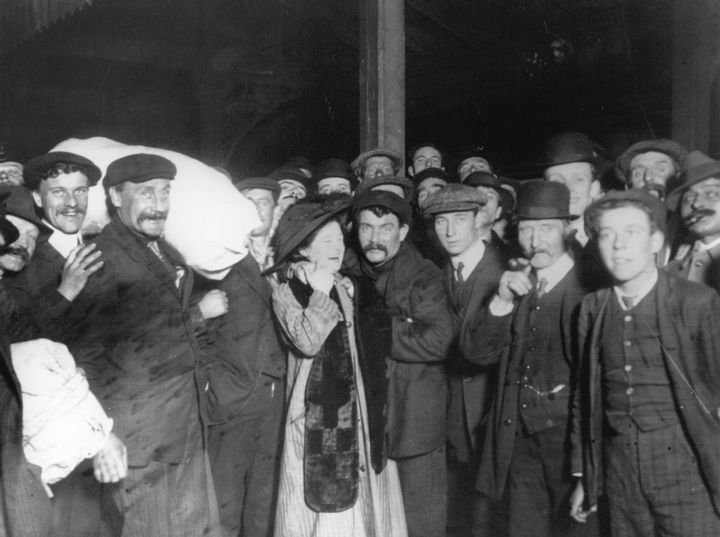 Image by Hulton Archive / Stringer / Getty Images (2667566)
According to CBS News, chairman of Blue Star Line Clive Palmer said that the Titanic II "will also circumnavigate the globe, inspiring and enchanting people while attracting unrivaled attention, intrigue and mystery in every port she visits."
Titanic – Made in China
In addition to Palmer, the Chinese have begun construction of a Replica Titanic in January 2014.
Unlike the Australian billionaire's ship, however, this Titanic will not be seaworthy, and be permanently docked at the Daying Qi River, acting as a hotel.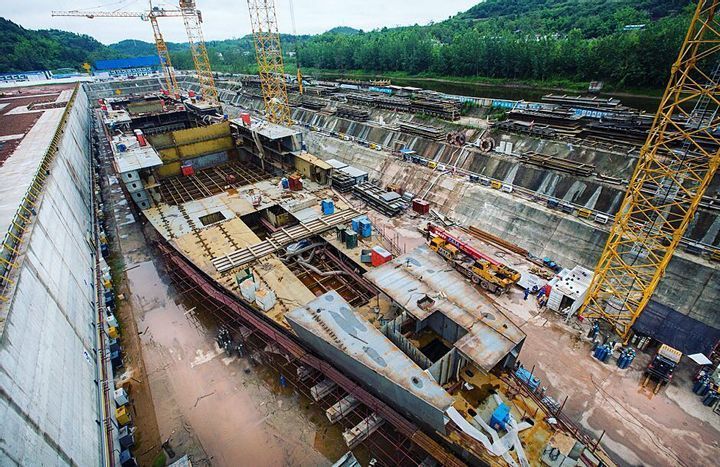 Image by @instafranbmx / Instagram
At an estimated worth of $161 million, the tourist attraction will feature replicas of the dining halls, ballroom, saltwater pool and cabins for all three classes. There are plans to reconstruct the original Grand Staircase as well. Originally, the company building the ship had planned an audiovisual simulation of the ship's sinking as well, but this was eventually dismissed as a bad idea. Still, visiting the historic ship and experiencing her decks first hand will surely be a spectacular experience.